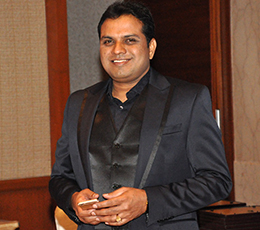 Mr. K. Raja
Chairman
It is a matter of pride to pen down the message of The Path Global Public School. My heart fills with immense pleasure as I perceive the progress being made at The Path Global Public School.
The seeds of an idea sown in 2013 have quickly come to fruition, and the school is growing into strong sapling.
The key focus areas continue to remain - creating opportunities, challenging minds, encouraging innovation and sustaining excitement.
Our school's objective is to continue being recognized as a torch bearer of leading education methods and an institution that has students defining a future not only for them but for the world as well. We have strived and will continually strive for brighter and more secure prospects for our children.
The values and environment we provide for our children are sustainable and help them successfully grow through their formative years. The investment we put in to our children today will help them achieve greater heights and create the unimaginable.
I extend my warm wishes to the Principal, Staff and Students of The Path Global Public School to continue this journey on the road of excellence.
"May the sapling grow into a sturdy tree and spread its branches"
- Mr. K. Raja