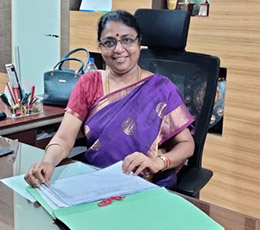 Mrs. Latha Moses
Principal
SUCCESS doesn't just find you, You have to go out and get it!.
True school Leader makes the school values align with the personal values. Every student is unique and special in learning ability. It is our responsibility to develop every student to prepare them for life. As educators, we should nurture our girl students and provide a safe environment to achieve their personal best performance. Students are the future leaders of society it is our prime duty to create an intelligent, resilient, creative, imaginative, disciplined and respectful student to thrive for success in the world of the future. Accepting the challenges and moving forward is an art, it should be inculcated in the young minds.
To face the modern society, every individual to be good in analytical, creative and reflection thinking, that should be emphasized more.
The above said values are already sown in the soil of The Path GPS. Here we lend the platform and work hard backstage to applaud our students in all their activities, be with them, behind them and around them. Real-life application of knowledge and skills has been the hallmark of the education revolution at The Path GPS.
At The Path GPS, all aspects of our educational processes are carefully designed to cultivate and stimulate the intellectual, soul and personal development of the most important stakeholders at this institution; the students. We promote tolerance, mutual respect and international – mindedness.
The stage is set, the props are ready and our students are perched like fledgling birds, eager to spread their wings and fly to more enriching and spiritual heights.