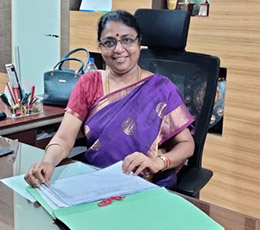 Mrs. Chithrakala. R
Principal
Dear Children,
Schooling is our first contact with the society. Our school is a place for healthy competition, adjustments, sharing our experiences and beliefs.
Acquiring knowledge alone does not benefit our society. The languages skills and personal development or maturity we attain are to be targeted to the betterment of our life.
All the people of fine character live by their values. Our India is a land of values like Ahimsa and Truthfulness. Our people are honest in thought, Word and Deed.
Character creates self respect and leads to high self esteem.
Maturity, growth or development can be measured in the decisions we make, the friends we choose, the responsibility we accept and the critical thinking.
Always remember to uphold the dignity of people and be empathetic.
In my opinion youth are always alert and you should be aware that the social media is a cause for the deviant behavior and violence with best wishes for the future leaders, blessings for a joyful learning in the years to come.