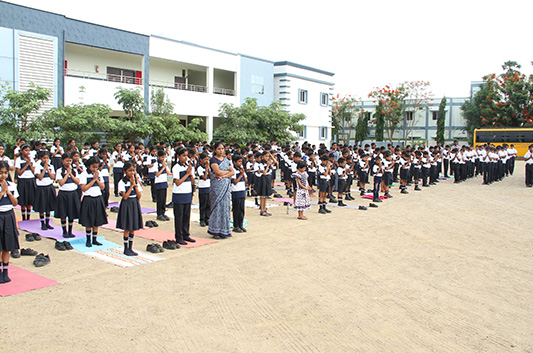 Bharat Scouts and Guides has been inaugurated in our school in the year 2014. The mission of scouting and guiding is well-organised in our school. Through this our students are getting self-fulfillment and are able to understand their role in society. Since 2016, the students of our school are writing the exams for the honorable Rajyapuraskar award.
CIRCULAR
Dear Parents,
We request you to kindly pay your ward first term fee before august 31st and get the textbooks, Uniforms.
Dear Parents,
As per the State Government's Notification, we will not conduct any online classes from 21.09.2020 to 26.09.2020.
School office will not function on Friday & Saturday(13.11.2020 & 14.11.2020) on account of Diwali Festival.
Dear Parents,
As many of you were requesting we are extending the last date of registration for PLUTO(Path Legendary Uplifting Talent Olympiad) upto 14.11.2020.
You can register now in the given link : http://rb.gy/nspudj
Ignore this message if already registered.
Dear parents,
Thank you for being a part of The Path GPS, for the cooperation and support.
The academic year 2020-2021 is coming to an end. The year-end examination commences form 15th of March, 2021. Kindly motivate and encourage your wards to appear for the same.
The government has set February, 2021 as the deadline to pay the pending school fees. So we request you to kindly pay the school fee latest by 12th of March, 2021.
We are eagerly waiting to welcome your wards for the new academic year 2021 – 2022 which will begin in April, 2021.
Dear parents,
With immense pleasure we would like to inform you that our school is selected as an Examination centre to conduct CBSE Board Examination - 2021. We have reached this milestone due to your constant cooperation and support.
We express our gratitude to all dear parents.
Dear parents,
We have send the report card( Revision Test - 2 ) of your ward along with him/her.
We request you to kindly go through and send it back to us after signing.
Thank you for your cooperation and support.
On the outset we, the management & staff would like to thank all students, parents and the well wishers of The Path Global Public School for the constant cooperation and support during the academic year 2020 - 2021.
Even though it was a challenging year for us, you have stood with us to complete the academic year successfully. We express our heartfelt thanks and gratitude to you.
It is our pleasure to welcome you for the new academic year 2021 - 2022 which begins from today (07.04.2021). We hope and pray that you and your ward will have a wonderful year and many cherishable moments.
Wishing you" All the very Best" for the new academic year 2021 - 2022. Today (07.04.2021), the students from Grade KG to IX and XI will have only one class which will be conducted by the respective Class Teachers. Class schedule and the link will be send shortly.
Regular Online classes will be conducted from Thursday (08.04.2021) until further instructions from the Government.
Detailed schedule and the time table will be sent at the earliest.
*Note : If parents want to meet the Principal/Academic Director , they can come on working days ( Monday to Friday) between 3.30 P.M and 4.30 P.M , on prior appointment.
Dear parents,
As per the directives given by the Government , we have decided to conduct ONLINE Classes for Grade IX and XI from Monday, the 22ndof March ( They will not have regular classes ).
The schedule for Online classes will be send to you soon by the respective Class Teachers.
* Attendance is compulsory.
* The syllabus covered in the online classes will not be revised later.